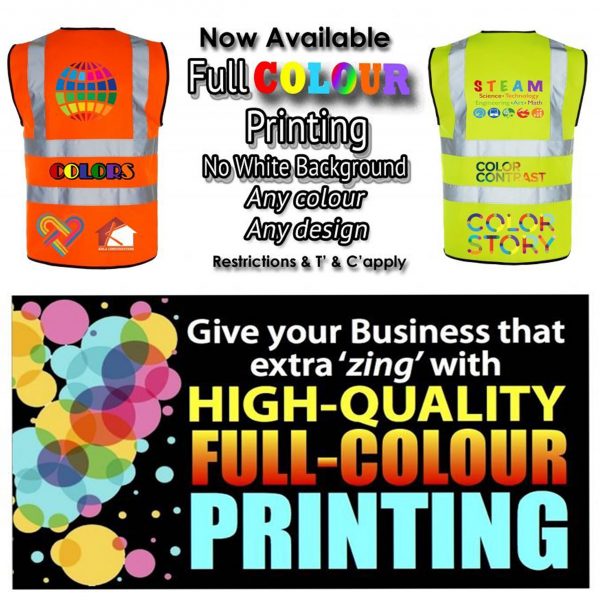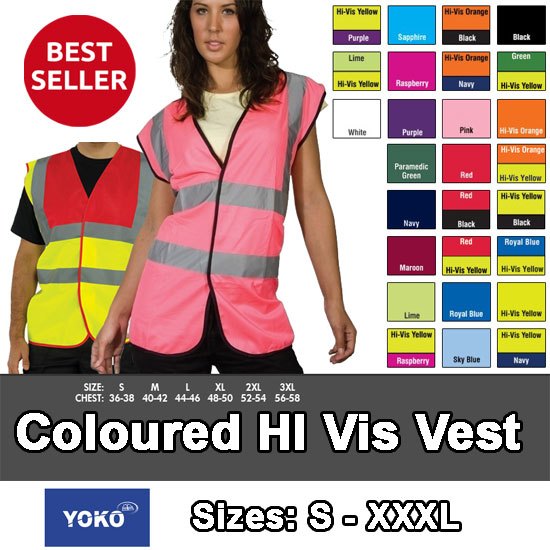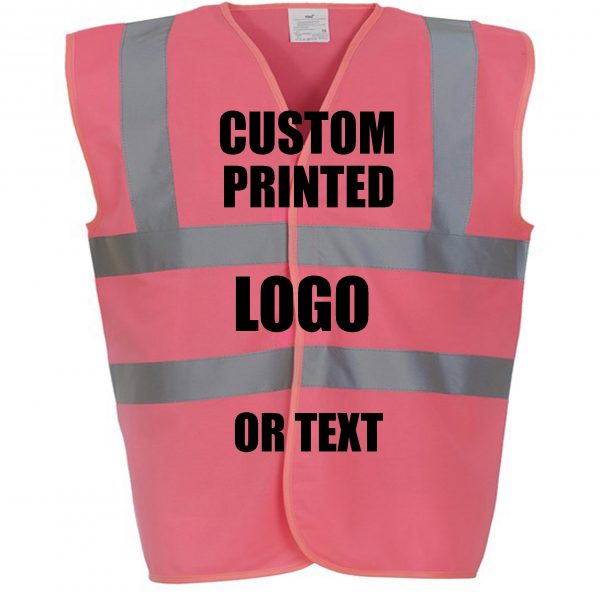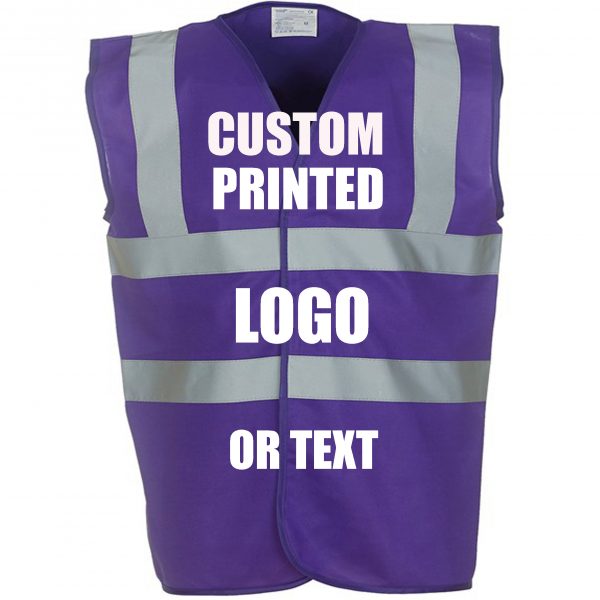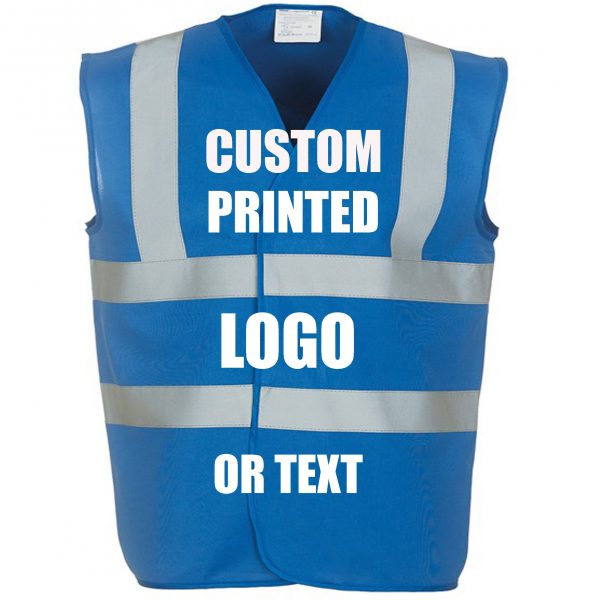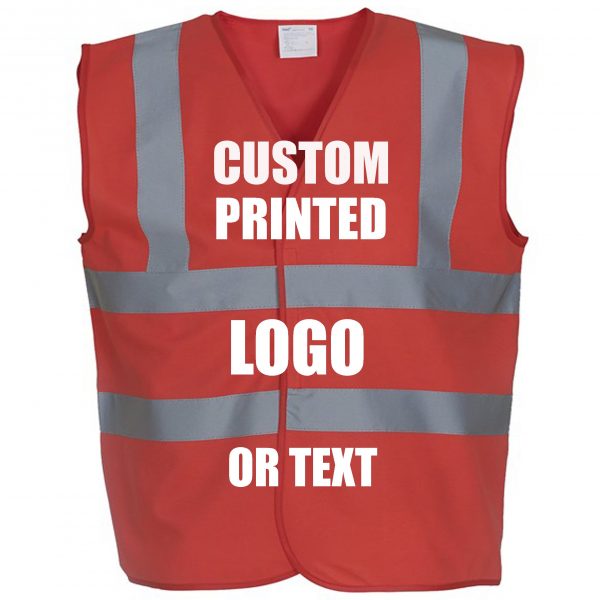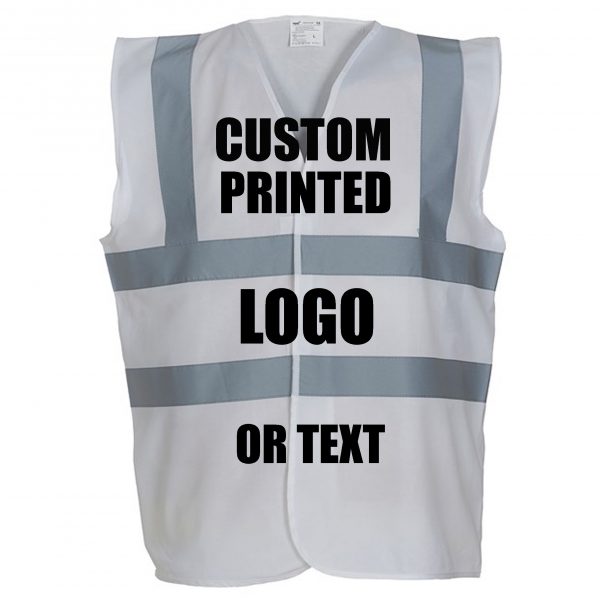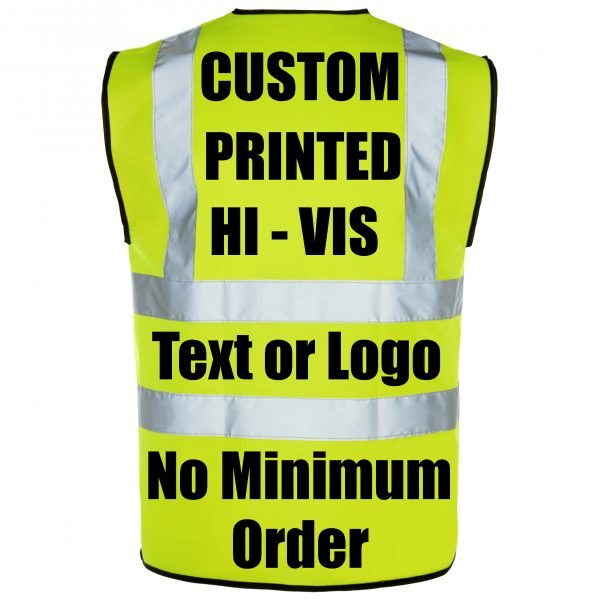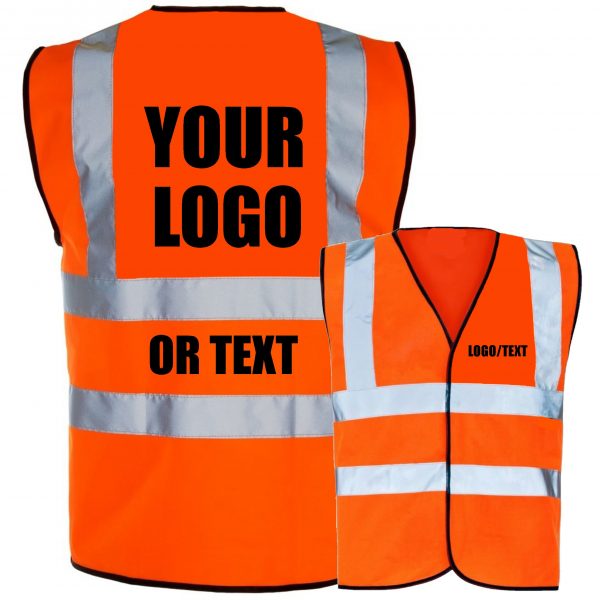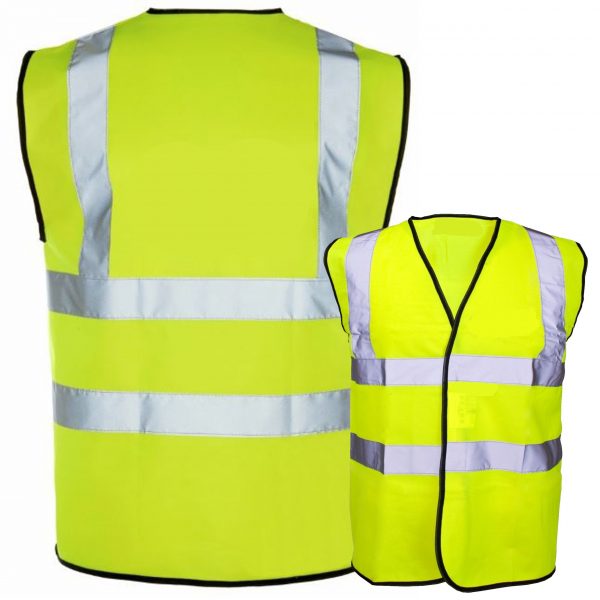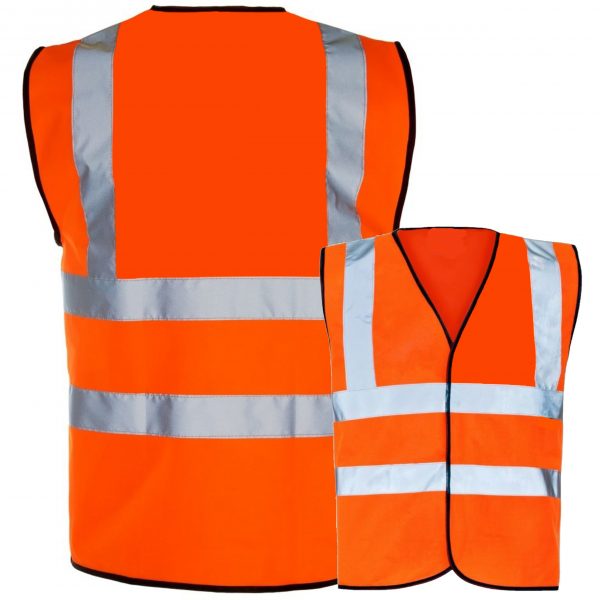 Hi Vis Waistcoat, Tabard, Safety Vest – Printed Full colour – No Back Ground
Discounts –Trade, Contract Supply & Large orders +10
Call us for pricing 01202 392999 or email click the link below

• High  Visibility waistcoat
• 100% polyester – 120 gsm
• Hook and loop fastening
• Retro-reflective tape
• 2 x body bands
• 2 x braces
• EN ISO 20471  Class 2 high visibility ( Yellow & Orange only)
• EN ISO 20471  Class 1 high visibility ( Coloured)
Sizes: Small,Medium, Large, XL, 2XL & 3XL
Colours – Yellow, Orange, White, Red, Sky Blue, Navy Blue, Royal Blue, Black, Paramedic Green, Lime, Pink, Burgundy, Purple, Sapphire & Raspberry


Two Tone Colours  – Call us for Details 01202 392999
We do offer a transparent print conversion to "vector" option, subject to image quality supplied. At an added cost and to production time.
Best file to send is a translucent image in: png – pdf – eps – ai – image file with "no background or white back ground" – No less than 300 dpi
For full print information & print guide …please scroll down
£0.00 (inc VAT)
£0 (Inc Vat)
Description
Additional information
All orders by default are supplied with white back ground or keyline or in one colour black….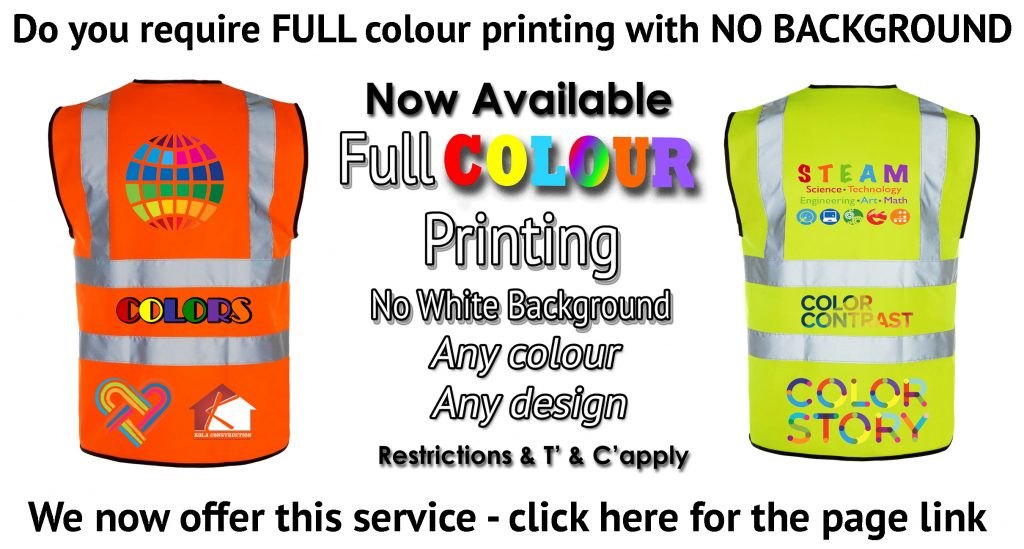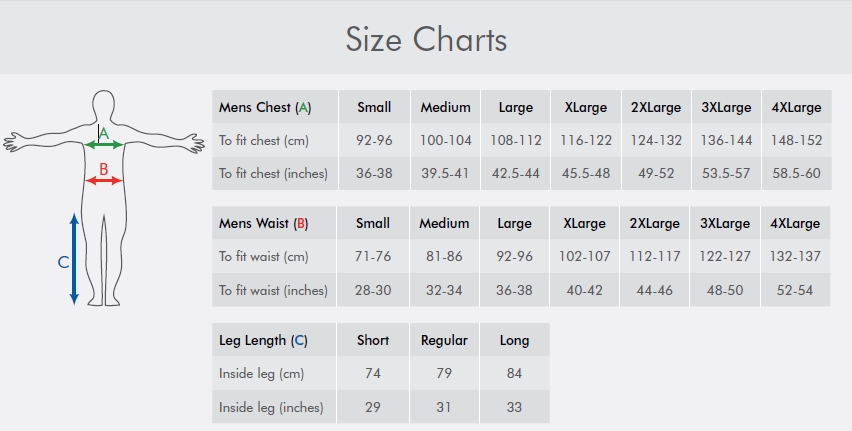 Colour Print No Back Ground 
The design MUST be supplied in without any white back ground or any back ground – We do not edit any images that is supplied, we wil check and contact you if the design is not suitable
We do offer a transparent print conversion to vector option, subject to image quality supplied and also add to the print cost & production time.
Artwork to send us:   PNG – PDF – EPS – AI file all with nop back ground no less than 300DPI
Upload the best quality version of your logo or image you have to ensure the best print result. The best image file should be no less than 300 DPI or higher. If you upload a file that is too low quality to print our team will contact you to discuss how best to proceed. Many other sites would simply produce your garments with a logo or design that looks terrible, here at simplyhivisclothing.co.uk  we check every order to ensure it will look as good as possible
Text Only Print
All text print is based on a colour that you supply or by default black if not specified print and in the font style PTSans bold. If you require a different font style please contact us via email stating your order number.
Print Sizing:
We have restrictions on the print area, we do try to make the print big as possible, but the most common size is 19-20cm wide by 25cm in height,  TEXT please be aware the more you want the smaller the scale – our advice keep it simple and to the point.
Transparent Print / Premium Print 
Produced with added cost + minimum order restrictions apply order call us for details 01202 392999
We require all artwork to be in vector format. This is usually files ending in *eps, *ai or some *pdf's.  format no less than 300 dpi ..Please feel free to contact our artwork team: 01202 392999 to discuss your print options Customers often get concerned about logo transparency, but there is really no need to be! Our expert production team is well used to removing the background from artwork files before production. If certain areas of your design should be transparent, the easiest way to avoid any confusion is to upload your image with transparent sections. Many file formats support transparency such as png, eps and ai or just call us on 01202 392999.
Artwork Proofing & Production Times
All artwork is checked for image quality, even if the print option for a proof is not required !
Proofing the design is important to us, this this to make sure the image quality that you have sent us is good enough for print and also that the customer sees an electronic image file of the hi vis with the design in place for customer sign off. Once the customer has accepted the proof production time is 5 -7 working days + delivery option that they have chosen.
Orders that are placed over the weekend will also be processed on the following working day
Once printed the item is non returnable, unless the "garment" is faulty please see our full terms of business for more information.
On large orders 50+ the production time maybe longer ''subject to status'', call us for details 0102 392999
Delivery
We work on orders Monday to Friday, orders placed on Friday after 12 midday will be processed on the following Monday accept on Bank Holidays when they are processed the next day
Courier deliveries will delivered during the working week, orders can be delivered on the weekend but at an added cost.
Next Day Printing – Call us for details 01202 392999

We supply across the UK including England, Northern Ireland, Scotland & Scottish Highlands, Wales We deliver across the UK to Leeds, Manchester, London, Birmingham, Newcastle, Bristol, Brighton, Liverpool, Norwich, Derby, Blackpool, Bradford, Middlesborough, York, Torquay, Glasgow, Aberdeen, Stoke, Coventry, Nottingham, Edinburgh, , Dublin, London, Leeds, Glasgow, Cardiff, Bristol, Blackpool, Birmingham, Newcastle , Sheffield, Bournemouth, Portsmouth, Leicester, Liverpool, York, Preston, Sunderland, Hull, Bury, Rochdale, Bolton, Blackburn, Chester, Norwich, Ipswich, Belfast, Wrexham, Newport, Bradford, Wakefield, Huddersfield, Lancaster, Aberdeen, Stoke, Hereford, Swansea, Wolverhampton, Coventry, Edinburgh, Dundee, Carlisle, Penrith, Durham, Middlesbrough, Darlington, Skipton, Selby, Barnsley, St Helens, Wigan, Warrington, Doncaster, Scunthorpe, Grimsby, Rotherham, Macclesfield, Shrewsbury, Boston, Telford, Walsall, Skegness, Great Yarmouth, Holyhead, Bangor, Llandudno, Chesterfield, Lincoln, Hereford, Bedford, Oxford, Cambridge, Colchester, Kings Lynn, Cheltenham, Gloucester, Watford, Luton, Harlow, Banbury , Chelmsford, Bath, Swindon, Taunton, Exeter, Southampton, Northampton, Plymouth, Torquay, Reading, Winchester, Sale, Hale, Slough, Canterbury, Crawley, Tunbridge Wells, Dover, Margate, Southend, Basildon, Stansted, Jersey, Harrow, Wembley, Ilford, Romford, Sutton, Croydon, Staines, Grays, Maidenhead, Woking, Dartford, Westminster, Aldershot, Derby, Paisley, Motherwell, Hamilton, Falkirk, Stirling, East Kilbride, Clydebank, Alloa, Largs, Livingston, Kilmarnock, Gateshead, South Shields, Hartlepool, Rossendale, Haslingdon, Accrington, Chorley, Wolverhampton, Barnet, Yeovil, Dublin, Galway, Kendal, Teddington Supplying Kent, Lancashire, West Yorkshire, South Yorkshire, North Yorkshire, Somerset, Lanarkshire, Greater London, Northumberland, Derbyshire, Cheshire, Norfolk, Suffolk, Cornwall, Devon, Somerset, Sussex, Essex, Middlesex, Hertfordshire, Wiltshire, Gloucestershire, Staffordshire, Leicestershire, Northamptonshire, Shropshire, Worcestershire, Lincolnshire, Nottinghamshire, Perthshire, Angus, Aberdeenshire,

NATIONAL CONTRACTS FOR VOLUME / MULTIPLE LOCATION USERS

We would be more than willing to discuss our pricing structure with large national users. By entering into contract with us we can provide several benefits to large volume users, such as :-
Discounted rates
Prices held for 12 months
Dedicated Account Manager
Monthly expenditure and usage reports
30 day Credit Account subject to status
 Fast UK delivery order before 12pm  Monday- Friday for next day working day delivery – subject to status ( advisory to call for stock levels 01202 392999 )
• High  Visibility waistcoat
• 100% polyester – 120 gsm
• Hook and loop fastening
• Retro-reflective tape
• 2 x body bands
• 2 x braces
• EN ISO 20471  Class 2 high visibility ( Yellow & Orange only)
• EN ISO 20471  Class 1 high visibility ( coloured)
Colours– Yellow ,Orange, Red, Royal Blue, Green, Purple, Pink – more colour's available – call us
Sizes: Small,Medium, Large, XL, 2XL & 3XL
Related Products
Gildan Heavy Blend Adult Hooded Sweatshirt 18500 Add Custom Print

Gildan Heavy Hoodie 18500

 ideal for print & Embroidery

Air jet yarn= softer feel and reduced pilling
Twin-lined hood with colour-matched drawcord
In transition to TearAway label
Twin needle stitching at shoulder, armhole, neck, waistband and cuffs
Pouch pocket
1 x 1 rib with spandex
Quarter-turned to eliminate centre crease
Also available in children's sizes code 18500B

£

17.26 (inc VAT)