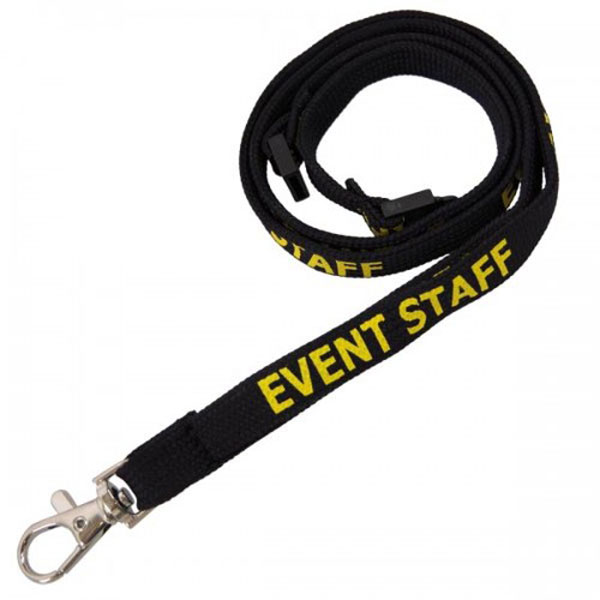 Event Staff Pre Printed Lanyard – Fast Delivery
Our  " EVENT STAFF "is a black 1.5cm flat ribbed lanyard with EVENT STAFF printed in yellow , making this a really eye catching choice of lanyard. Event lanyards are a great way to ensure your  staff can be quickly and easily identified by the general public, staff, visitors and emergency services.
"Sold In Packs of 10"
LANYARD SPECIFICATIONS
| | |
| --- | --- |
| Material: |    Flat Ribbed Polyester |
| Sizes: |  One size |
Included – Metal Trigger Clip & Quality Safety Break


Order before 12pm "Monday – Friday"  orders can be delivered next working day subject to status
£20.52 – £392.40 (Inc Vat)
Description
Additional information
Pre-printed Lanyard Range
Available for same day dispatch for express delivery, our pre-printed lanyard range are manufactured to the same high standard as our custom printed lanyards.
These are sold in packs of ten with a huge choice of pre printed lanyard text and colour options.- 10mm wide lanyards.
Fire Warden Lanyard, First Aid Lanyard, Staff Lanyard, Event Staff Lanyard, Student Lanyard, Visitor Lanyard, Volunteer Lanyard,  VIP Lanyard, Steward Lanyard call us for details
 Tel : 01202 392999

Related Products
Security Pre Printed Lanyard – Fast Delivery

Our  " SECURITY LANYARD " is a red 1.5cm flat ribbed lanyard with SECURITY printed in white, making this a really eye catching choice of lanyard. Security lanyards are a great way to ensure your security staff can be quickly and easily identified by staff, visitors and emergency services.

"Sold In Packs of 10"

LANYARD SPECIFICATIONS

Material:
   Flat Ribbed Polyester
Sizes:
Width: 1.5cm
Length: 90cm
(45cm each side, excl. attachments)

  10 – £14.25 (ex VAT)
  50 – 5x packs of 10 @ £66.25 – £13.25 per pack (ex VAT)
100 – 10x packs of 10 @ £122.25 – £12.25 per pack (ex VAT)
250 – 25x packs of 10 @ £272.50 – £10.90 per pack (ex VAT)

Included – Metal Trigger Clip & Quality Safety Break

                               

Order before 12pm "Monday – Friday"  orders can be delivered next working day 

Price including VAT from –

£

20.52 –

£

392.40 (Inc Vat)